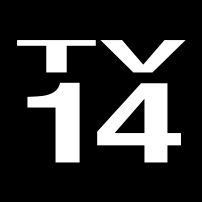 Programming rated TV-14 in the United States TV Parental Guidelines signifies content with parents strongly cautioned. Content may be inappropriate for children younger than 14 years of age. This rating contains mild to realistic violence (including some blood-letting), sexual references (including censored and/or partial nudity and medium to high-level implied scenes of sexual intercourse), mild to moderate use of language (strong language is usually censored using a "bleep censor"), and sexual innuendo.
Like the TV-PG rating, many shows during prime time (on most networks) carry this rating. Most shows on FOX receive this rating.
Content descriptors
Edit
D: Intensely Suggestive Dialogue
L: Strong Coarse Language
S: Intense Sexual Situations (including partial nudity)
V: Intense Violence
There are several companies or TV stations that have broken the general implied rule that strong language (ex. F-bombs) is not allowed at a TV-14 rating. For example, two titles (Gintama: The Movie and the complete collection of the anime Another) released by Sentai Filmworks have multiple F-bombs. The movie We Are Legion: The Story of the Hacktivists is broadcast uncensored on Pivot TV with a TV-14 rating despite its strong language. The El Rey Network originally issued an uncensored broadcast of the movie Pulp Fiction with a TV-14 rating, but later apologized for this and changed the rating in future broadcasts to TV-MA.