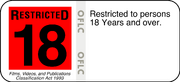 In New Zealand, the R18 rating is used to signify that a movie is unsuitable for children, and no one under 18 is admitted to the motion picture under any circumstance. A DVD or computer game with an R18 label should not be sold to anyone under 18.
Examples of R18 titles
Edit
Pulp Fiction ("Graphic violence")
Pink Flamingos (original rating) ("Gross material")
Ken Park (cut) ("Graphic violence, explicit sex scenes and content that may disturb")
Kill Bill Vol.1 ("Graphic violence & offensive language")
Natural Born Killers ("Graphic violence")
The Dreamers ("Sex scenes")
Drive Angry ("Violence, offensive language, drug use & sex scenes")
The Wolf of Wall Street ("Drug use, sex scenes and offensive language")
Team Sanchez: The Movie ("Graphic content that may offend")
Ad blocker interference detected!
Wikia is a free-to-use site that makes money from advertising. We have a modified experience for viewers using ad blockers

Wikia is not accessible if you've made further modifications. Remove the custom ad blocker rule(s) and the page will load as expected.