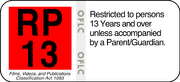 New Zealand's
RP13 rating
is mandated by the country to indicate that a movie is unsuitable for children under 13, and that no one under that age is admitted to the film unaccompanied by a parent or adult guardian.
Occasionally the Classification Office will assign an RP13 or RP16 classification to a film. This classification is different from R13 or R16, where it is an offence to supply the film or DVD to any person who is under the specified age.
Examples of RP13 titles
Edit
Duran Duran Greatest ("Nudity")
Matariki ("Violence, drug use & offensive language")
Ad blocker interference detected!
Wikia is a free-to-use site that makes money from advertising. We have a modified experience for viewers using ad blockers

Wikia is not accessible if you've made further modifications. Remove the custom ad blocker rule(s) and the page will load as expected.