The "Adults Only" sticker is a commonly-used symbol by the visual novel-releasing company JAST USA on the covers of games which feature graphic adult content. It is commonly in the top-right or bottom-left corner of the front cover, though a handful of games feature in the top-left corner, as well a small section on the back cover.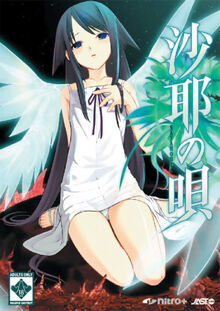 List of games which feature the sticker
Edit
Absolute Obedience
Amorous Professor Cherry
Bazooka Cafe
Cat Girl Alliance
Chain
Come See Me Tonight (both games)
Cosplay Fetish Academy
Crescendo
Deus Machina Demonbane
Dousin - Same Heart
Do You Like Horny Bunnies? (both games)
Enzai: Falsely Accused
Family Project
Gibo: Stepmother's Sin
Hitomi: My Stepsister
Idols Galore
I'm Gonna Nurse You (both games)
Kana ~ Okaeri
Let's Meow Meow!
Lightning Warrior Raidy (all three games)
Little My Maid
Moero Downhill Night (all three games)
My Girlfriend is the President (fan disc only)
Pick Me Honey!
Pretty Soldier Wars AD 2048
Princess Waltz
The Sagara Family
Secret Wives' Club
Sensei 2
Shiny Days
Slave Pageant
Snow Sakura
Song of Saya
Target: Pheromone
Tokimeki Check-in!
X-Change (all three games)
Yin-Yang!
Yukkuri Panic: Escalation
Yume Miru Kusuri
Yumina the Ethereal
School Days HQ, My Girlfriend is the President and Starless: Nymphomaniacs' Paradise did not feature the sticker on the front side of the game, only the back. However, the fan disc for My Girlfriend is the President, which was released separately, did receive the sticker on both front and back.
Tokimeki Check-in! and X-Change have, both on separate releases, received the sticker despite both having an official AO rating from the ESRB. This is likely because they came in 2-disc sets that included unrated games; X-Change with the second game, and Tokimeki Checkin! with Dousin - Same Heart.
Shiny Days received a special orange version of the sticker.
There is still content not allowed at the "Adults Only" rating for JAST USA. For example, Family Project has some nudity involving an underage character digitally painted over with lingerie. Shiny Days removed sex scenes involving underage girls in one route, however left them implied through other sequences in the game. Starless: Nymphomaniacs' Paradise had CGs relating to bestiality and other fetishes illegal in some states removed. X-Change 3 had sequences of underage nudity and a rape scene censored. However, all of these later received fan restoration patches online.
Aselia the Eternal was refused to be released in an "Adults Only" format due to some graphic material involving minors in its uncensored original Japanese version. It was only released in an edited all-ages edition.
Ad blocker interference detected!
Wikia is a free-to-use site that makes money from advertising. We have a modified experience for viewers using ad blockers

Wikia is not accessible if you've made further modifications. Remove the custom ad blocker rule(s) and the page will load as expected.