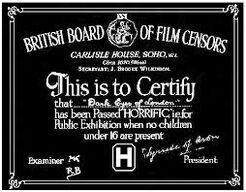 H was an old certificate that the British Board of Film Censors used from 1932 until 1951. The "H" stood for "Horrific". It was replaced by X, the Board's first compulsory certificate, in 1951. The certificate was never compulsory, and children 15 or under (except in certain councils) could see an H-classified picture, but it was not recommended.
British Board of Film Classification

(BBFC)







Ad blocker interference detected!
Wikia is a free-to-use site that makes money from advertising. We have a modified experience for viewers using ad blockers

Wikia is not accessible if you've made further modifications. Remove the custom ad blocker rule(s) and the page will load as expected.