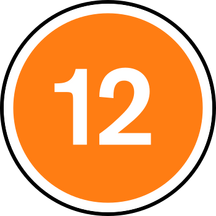 12 certificate is a rating given by the BBFC that determines that a particular form of media is suitable only for teens aged 12 or over. Nobody younger than 12 can rent or buy a 12-rated video. This rating has not applied on the cinema since 2002; that role is now used for the 12A certificate.
Note: Even if a sparing amount of strong language is used, current BBFC guidelines do not allow the word "c**ksucker" to pass at "12"; any use within the work can almost always result in a "15".
The Irish Film Classification Office also issues 12 certificates for video releases.
British Board of Film Classification

(BBFC)







Ad blocker interference detected!
Wikia is a free-to-use site that makes money from advertising. We have a modified experience for viewers using ad blockers

Wikia is not accessible if you've made further modifications. Remove the custom ad blocker rule(s) and the page will load as expected.